Our Instructor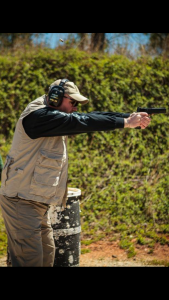 Brad Smith is an NRA Certified Instructor for Pistol, Personal Protection in the Home, Personal Protection Outside the Home, Rifle, Shotgun, and Muzzleloader. Mr. Smith is also an NRA Certified Chief Range Safety Officer (CRSO) qualified to teach the NRA RSO class. NRA classes are the perfect foundation for learning how to use a firearm in a self-defense situation.  Brad has additional training with Rangemaster, Ken Hackathorn, Andrew Branca as a LOSD Instructor Graduate, and many other nationally recognized experts in the Self defense field.
Brad is a Life member of the NRA (Patron Level) and a strong 2nd amendment advocate. He is active with the Buckeye Firearms Association and Ohioans for Concealed Carry. He believes that all law abiding citizens have the right to obtain their Concealed Carry License (CCW, CHL) if they so desire. He has also volunteered to speak at neighborhood watch programs in the Chillicothe, Ohio 45601 area. Topics that are typically covered are personal protection, firearm safety, self defense, how to obtain your CCW/CHL, self defense laws, and weapon selection as it pertains to self defense.
Brad is a member of the International Defensive Pistol Association (IDPA) where he competes in the CDP Division.
His goal is to give you the knowledge, skills and mindset needed to protect yourself and loved ones in a life threatening encounter. The classes are structured to teach handgun safety and marksmanship, with progression to defensive pistol skills. He will cover methods of carry, gun laws, firearm safety, weapon selection, firearm maintenance, and what you need to know if you're involved in a self defense altercation.
You deserve to take a class from an instructor that teaches more then just the Basics. In a self defense situation you will revert to your training.  Get trained by someone who's classes are more then Basic!
Whether new to firearms or very experienced, at Chillicothe Firearms Training, we feel confident you will be proficient with your weapon and prepared to defend yourself.  If you're in or around the Chillicothe Ohio area and want to obtain your Ohio CCW/CHL to carry a concealed weapon, contact us today.